Domaine LE MARTINET
Key of Transformation
Le Martinet is the hub and homeland of the Amrit Nam Sarovar school of mastery.
Domaine Le Martinet is a 20Ha property at 800m attitude, beautifully located in an east|west valley between forest, meadow and a wild river just behind the small commune of Saint Michel les Portes on the edge of the Vercors natural reserve in the French Alps. 
It is a place that welcomes humans, a land that will soak up whatever they want to let go off and support them in making the needed changes for realising their life's path. It is a place to fall in love with.
Le Martinet functions for many people as a portal to other dimensions; as a gateway to a different quality of consciousness; as a portal to new life. It is a vortex of energy that uplifts as well as confronts.
It is both a womb of mother earth and a cauldron in which the ego gets "cooked". In all of these forms, the notion of transformation is the key.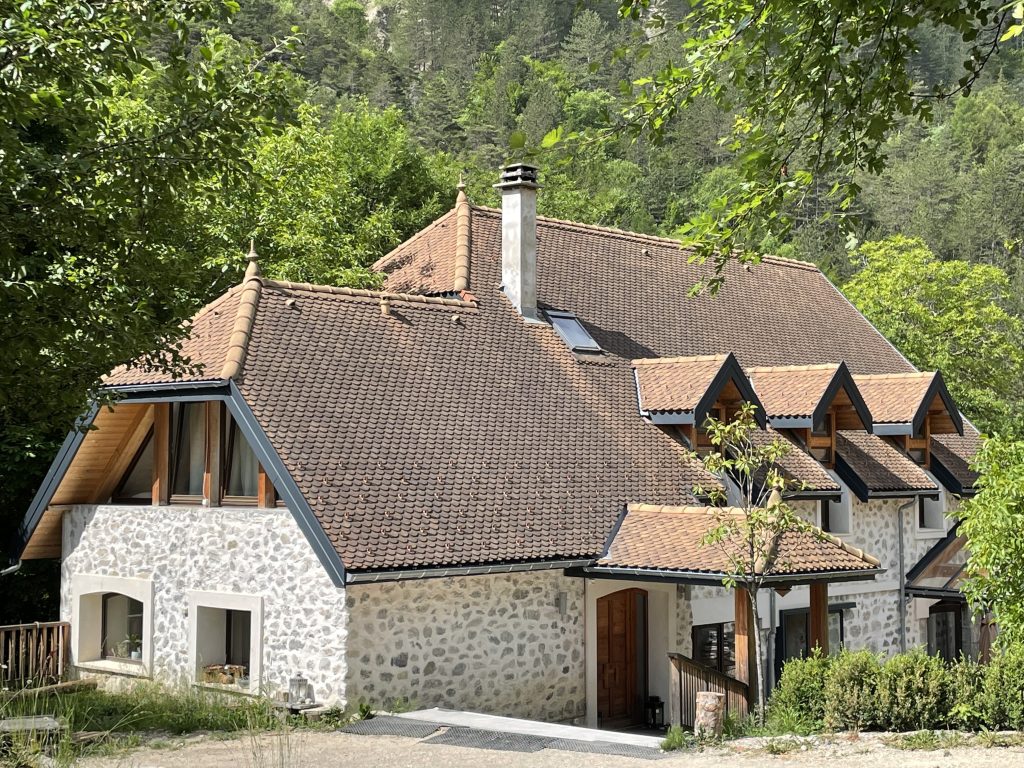 Le Martinet Restaurant
The former old traditional stable has been converted to home Le Martinet's restaurant.
All products used within our kitchen come from 100% organic ingredients and nourish guests with the spirit of international gourmet food in vegan and vegetarian options.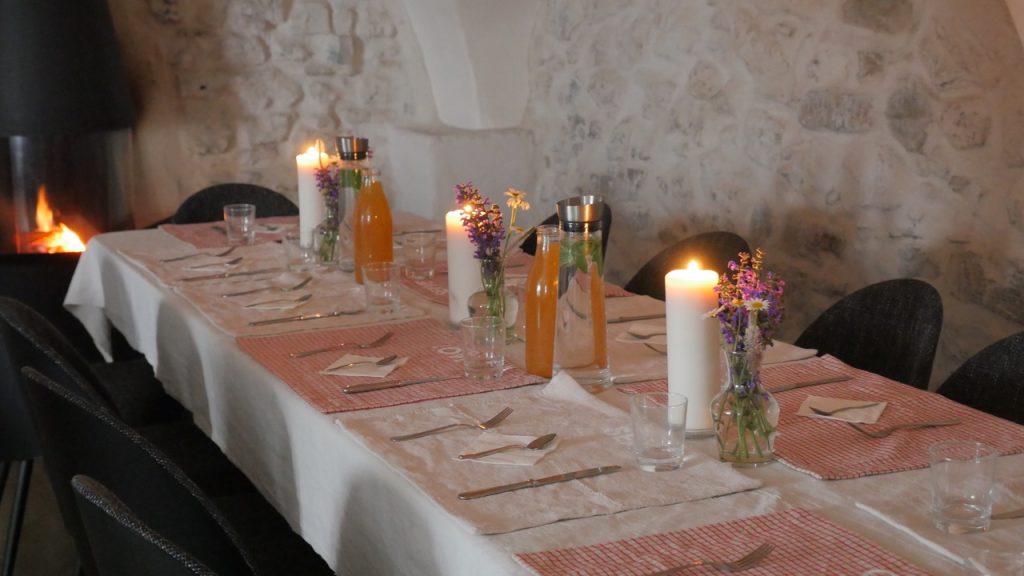 Wherever possible vegetables are sourced from Le Martinet's permaculture garden, alternatively we source seasonal produce from local and sustainable sources. 
Capacity: 40 guests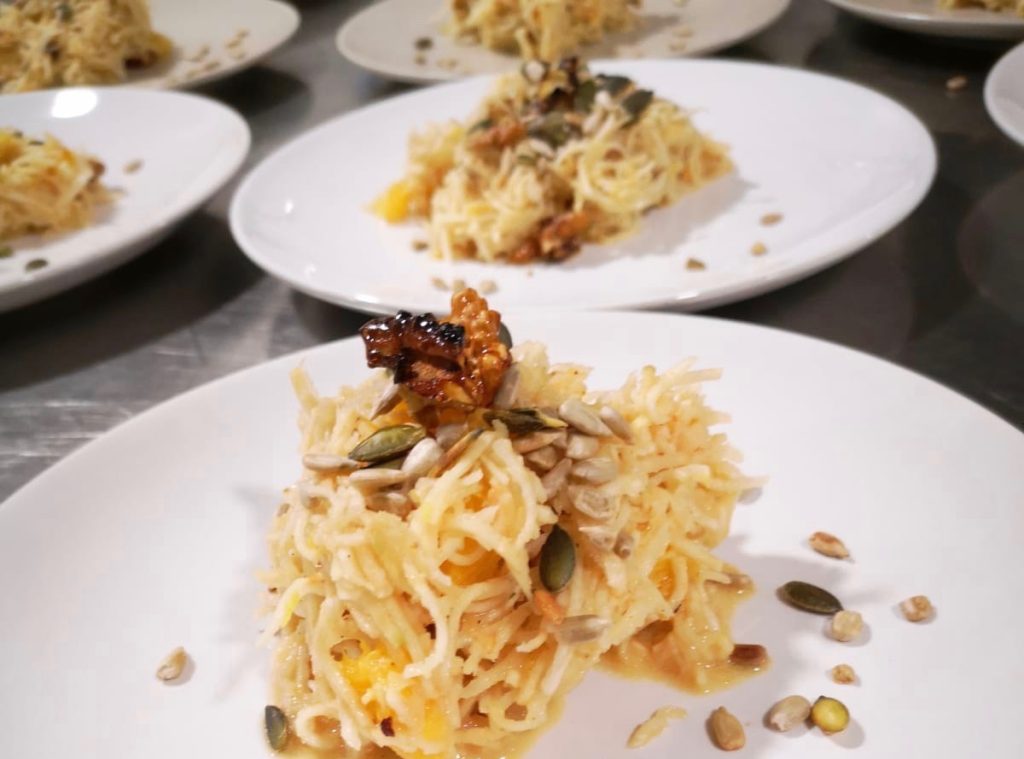 Yoga Room
In 2017 the yoga room was renovated into the special space it is today.
Occupying the space of the old hay barn, the room is now a 108qm sanctuary hosting 4-pillars and benefitting from a professional sound system which can also be used for film screenings. 
Capacity: 35 yoga mats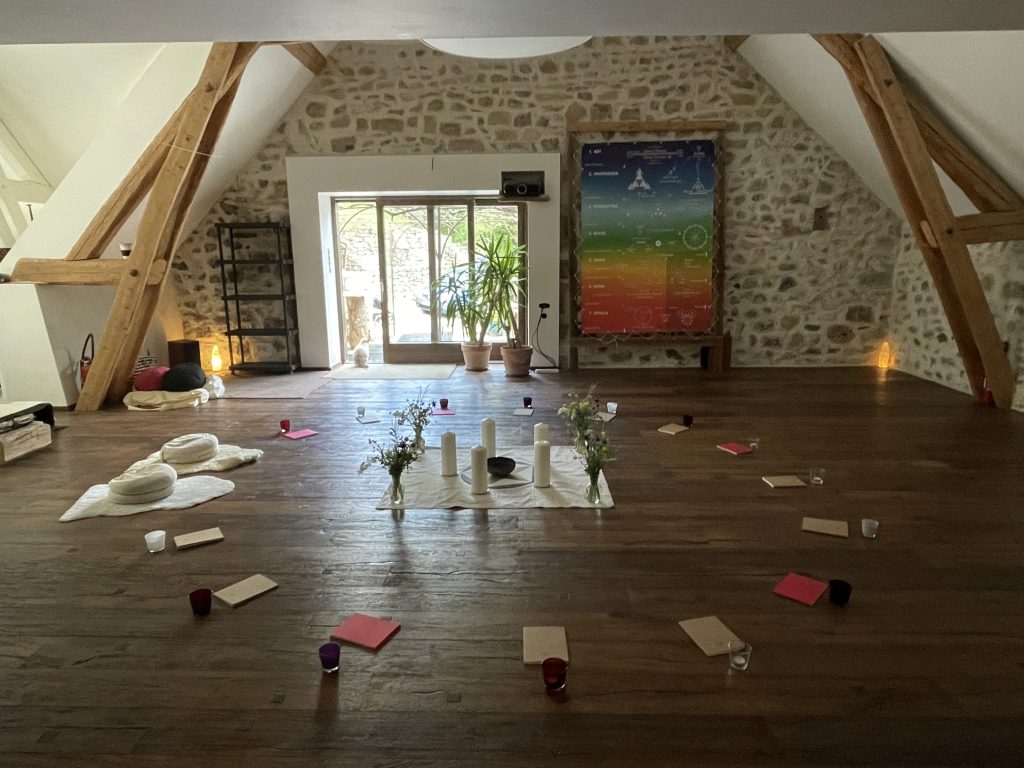 Big Top
The Big Top benefits from a wooden floor, stage and professional sound system for yoga trainings.
Capacity: 300 yoga mats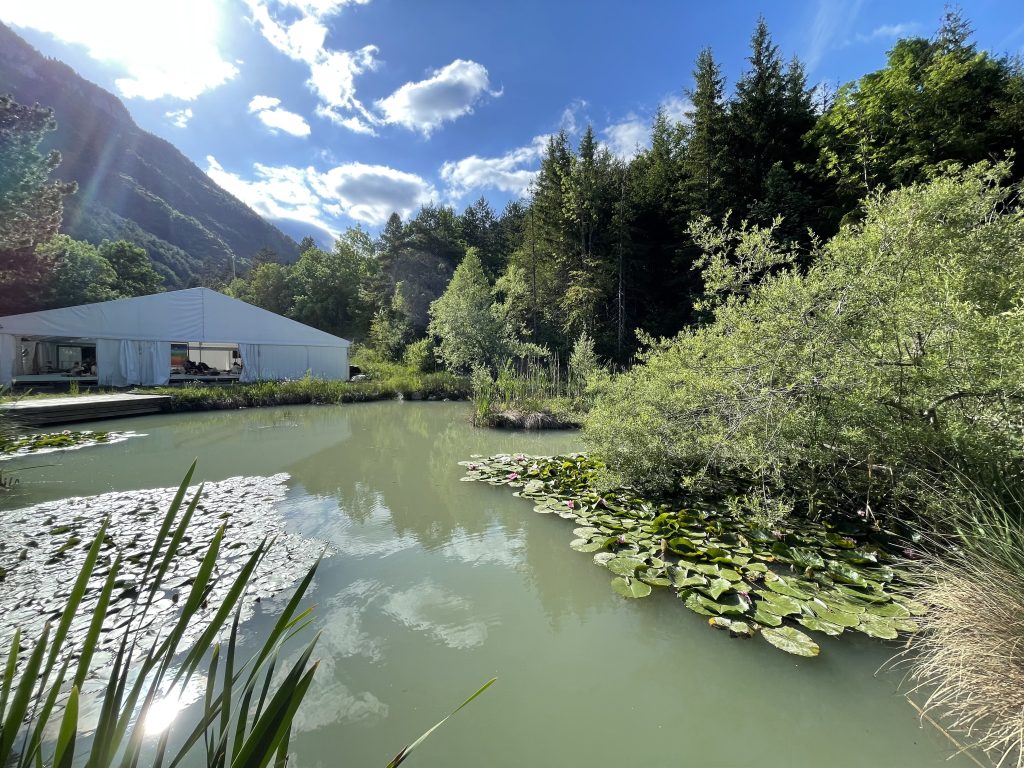 7 Rays
Since 2018 the Seven Rays Energies have been anchored in the land.
A meditation tour of each of the seven Ray locations lasts a minimum of 2 ½ hours. Each Ray is marked by an altar, where guests can contemplate and identify key parameters of their shadow selves and dissolve their attachment(s) to them. They can also re-orientate themselves according to the guidance they receive. 
The Rays are anchored across our land as follows:
Ray 1 at the Source – our source of spring water
Ray 2 at the Sarovar – the nectar tank of unconditional love
Ray 3 at the Havan Temple geodesic Dome – a place to honor the fire essence and connect with our capacity to create the world we choose
Ray 4 at the Sweat Lodge Village & Healing Vortex – a place to rebalance the 5 elements and abandon emotional toxins
Ray 5 at Four Pillar Room – the space to reconnect with the Buddhi mind, the capacity to listen and to embrace the reality beyond duality
Ray 6 at the Gurdwara – connection to re-fire your faith and channel the grace and blessings; a place to meet the inner guide or to guide others
Ray 7 at the Spiral – to experience what needs to be transformed and how to make it happen; a place to start to expand to your highest potential